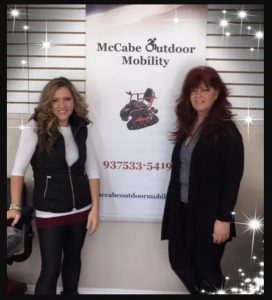 At McCabe Outdoor Mobility, we are very familiar with the equipment because we don't just sell it, we have family members who use it!
We are a small family owned business based in Eaton Ohio. We became involved in mobility equipment after our husband and father was paralyzed in an accident. His life revolved  around the outdoors and, thanks to some of the amazing equipment we now provide, he is able to be the outdoorsman he once was and remain active and healthy.
Whether your passion is being outdoors, hiking, gardening, shopping or going to the beach...or you are simply looking for items to help you get around your own home, we have the mobility equipment for you. We carry anything from canes, walkers, mobility scooters, regular and all terrain wheel chairs and much more. We would love to be your mobility provider and have the chance to work with you to figure out the best options for your circumstances.
Contact us for sales, service, and delivery at affordable prices...and we offer all factory warranties. We also perform demonstrations and provide instruction to make sure you know how to use your equipment and that you are getting exactly what you need.